When Playmobil released a little Scottish figure this year, we were quite excited. He was brooding, with wild shaggy hair, sturdy boots, a green plaid and a broadsword. Perfect!
We went searching for mentions of Scotland by Mark. There weren't too many, but we did manage to shoehorn the little figure into doing duty as a waiter in a scene about blood pudding.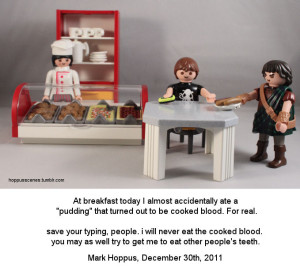 Then recently we came across a mention of the movie "Highlander". Why we never thought to search for that term to begin with, I'm not sure!
We are big fans of the 1986 movie Highlander. We had it on VHS back in the day, and then Laserdisc and now DVD. We had multiple copies of it – North American cut, European cut, Director's cut. We even had multiple versions of the monstrosity that is Highlander II, including a Japanese version and the recut Renegade version. We played the amazing Queen soundtrack over and over, and at one point had copies of all the different international promo posters up on our walls.
So we made a scene for Mark's Highlander tweet. And the day it was going up, we noticed that the Highlander was holding the wrong sword! He had a sword, but in setting up the scene, he'd been given a random silver sword from our collection, and not the grand broadsword that the Scottish figure came with, and that Connor MacLeod of the Clan MacLeod used in the flashbacks to the highlands in the movie.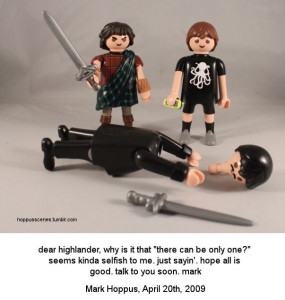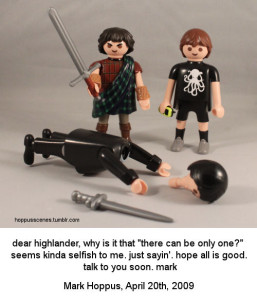 Would anyone have noticed this detail? Probably not. But our inner Highlander fan couldn't let us use that one once we'd noticed the mistake, so the scene was recreated using the proper sword.